The simple life depends on what you believe now
the simple life
So, do you like to know the simple life of an italian guy?
My name's Massimo D'Amico. I live in Italy, some kilometres near Venice. 10 years are passed now since I play boxe. (however I'm a calm person)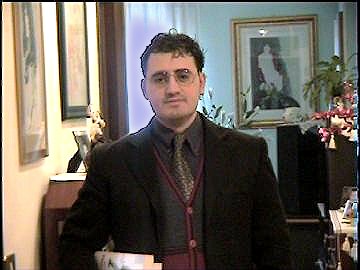 Oohh, I like it, in fact I love to train myself. I have played different sports in the past, from athletics to basket, (volleyball, american football, soccer and so on..) but I must admit boxe is an excellent sport. Thanks to it plus some good stretching exercises I have lost over 5 kilos!
I'd like to let you know the simple life of this guy was not simple in the past...
Please continue reading.. I'm writing now from the room of my apartment and the first important thing appearing in my mind is the importance of my family. Mommy & uncle Tony: I LOVE YOU.
However I can not forget my father, he is died on 1990 and I can not forget my gammers (Silvia & Tindara), with special thanks to grandmother Tindara. She waxed me and she also was a second mother for me.
Aunt Wally: you are in my heart. Simple life of my aunt is another example of life dedicated to others.. I will remember her for the ends of my days. She has always thinked to my mother & my uncle to give them an hand. It's incredible how a 74 years woman (with a small $500 pension) has left something to every member of my family. Wally, you was great. Period.
Another fundamental part of my life is my beautiful woman Barbara, I love her and she stays next to me since 9 years. It seems yesterday I have met her.. the simple life of Barbara had hitted me... YEAHH : )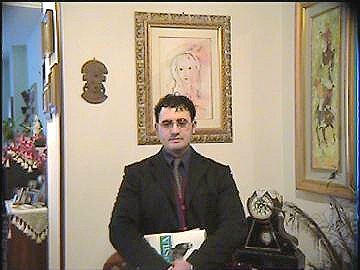 It seems unusual but I have realized the complete puzzle
Nothing is discarded . Every past job given us a piece of knowledge to use. I think "FIREWALKING" can be an excellent example for explaining that. It happens many years ago in a big garden (I also remember the timber deposited on it) of "LaBulesca" hotel. When my mind rethink to FIREWALKING I can not believe again I have did it!!
YES, it's true, I walked on the burning embers with no accidents to my foots and I reached the goal on the other side!.. WHY I HAVE ACCOMPLISH THIS THING?
You do not look at it as a bluster, but as a courage attemp to face life arduousnes. It just make sense - Every day is not different from a firewalking... Then my past jobs too were burning embers!
Let me say now THANKS TO THEM.
The list is very long, but I prefer to write the most meaningful. I have worked on many different activities: computer graphic creator, postman, store clerk, networker and an insurer too.
Finally I have realized MY DREAM : teacher of computer programming.
Press here to see the simple life successful system! ... First I have applied this one to my life. Then my superb job was created from nothing thanks to second one. In fact I have changed my life and my job. I'm sure they will work for you too.
So, what I intend for the meaning of "the simple life"?..
You are reading it! Life is difficult but it teach us some precious things too. Do not surrender to various obstacles you are finding. Every problem is an other opportunity to enhance. (half-empty glass or half-full glass?.. Remember mentality concept?)
Now a part of the-simple-life when I was MILLIONAIRE
Do you know multilevel system? They say MLM, it's the same. Let me write about unbelievable period when I was networker. I have dedicated over 2 full years of my life to it. Do you think I have earned millions?..
I was working for a new italian company focused on internet & telecommunication sectors. It was very luring to put myself in a big business market. : 0
What was the final purpose?
Gain a first commission for every single contract given away for free and a second small commission gained by phone consumption.
Just to place some numbers on the table: I have concluded over 300 telecommunication contracts, over 25 web-decoders and a great team of 20 members. Stop a moment. I bet about you are making the calculations of my profits... WRONG ANSWER, there is a surprise!
Terms of commissions had been changed by company to not pay money concerning telephone consumption. : (
What a big present I have received to work for 2 years and create absolute nothing!.. It's the simple life I do not wish you...
The same BAD future invested me during the period I was insurer. Promises, promises, tons of promises. In 5 years of my life fully of trips, brainstorming, contracts problems & clients problems I have received another great severance pay: absolute zero! : (
I feel a thrill every time I'm thinking about it... Can you imagine 5 years thrown on the rubbish? I was disappointed. the simple life I wished was a perpetual disappointment.
Now imagine...
What you would have made in the same situation?..
Can you comprise what I'm trying to show you?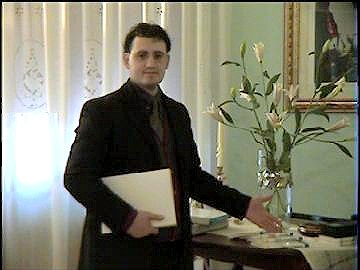 the simple life you want is somewhere you can not see it
The most important things you can do are searching & proving... Do not let the cath goes away! Barbara my woman had not left me, I can not forget it. Today I have repaid her confidence hundred times. And I have a lot of spare time to stay with her. I have the simple life I have built up with my hands. I work, I love, someone loves me, my future.


DIFFERENT STUFF I USE FOR MYSELF
---